BEAST OF THE EASTTHE CASE STUDY
Project
Branding
Location
Shanghai
We are on a mission to free people from the clutches of boring commercial beer on one side, and crafty, hipster nonsense on the other."
Beast of the East was created by a group of bar owners as a response to the dominance of large corporations in the industry.  They had decided to do things their own way and they had big ambitions of their own.
"我们的使命是将人们从无聊的工业啤酒与嬉皮士式荒谬的夹击中解放出来。"
一群酒吧所有者们创建了啤里啪啦品牌,来回应被大公司支配的啤酒行业。他们决定用自己独特的方式宣示他们的雄心壮志
Strategy
Creative Direction
Illustration
Design
Copywriting
East can represent two area's depending on where you're from. For Chinese consumers, East is Shanghai, for the large expat population, East is China as a whole. Both work. China is such a vibrant and exciting place to live, we wanted to show that through the branding, identifying characters that just don't give a damn. The Kung-Fu Grandpa, Karaoke Freddy Mercury, Parkour Yoga Girl, every day people who stand out loud and proud.
Unsurprisingly our young Chinese consumer was not one for walking their own path, however, on the streets of Shanghai, in unexpected places, we found people who shared this attitude with the owners. 
They walked their own path or danced as if no one was looking.  Most importantly, they were admired and respected by our consumer.
These are our Beasts of the East
啤里啪啦,  it is a phonetic word, referring to dramatic and blasting sound, however by replacing the first character with 啤, meaning beer, it gives a new layer of meaning, suggesting there is a dynamic movement in the beer and the brand.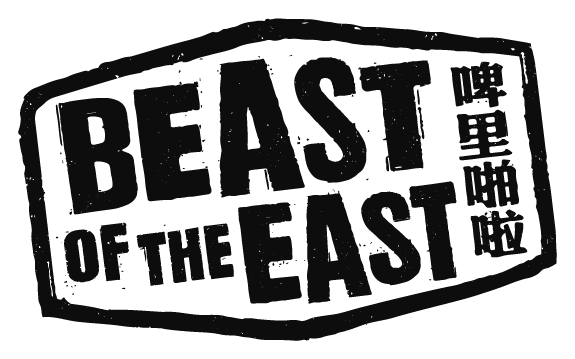 After creating the original identity we have continued the working relationship by creating visual identity guidelines, packaging, print production management etc
We'd love to be able to create a project like Beast of the East with your company. If you'd like us to be part of your team, and create something incredible, get in touch.